14/12/16
We are really excited to add four new dates to the 2017 TNS Tour.
We will be playing with Roughneck Riot and Wonk Unit in Warrington at the Brewhouse on Sunday 26th February.
Also with Wonk Unit and Faintest Idea at Cellar Bar in Stafford on Friday 3rd March, and in Banbury on Sunday 5th March.
And finally…..for now, with Faintest Idea at The Underground in Plymouth on Saturday 4th March.
Tickets will be available from the individual venues. There will also be local support acts.
TNS Records will also be putting a limited edition tour 7″ and tour t-shirts on sale soon.
01/12/16
Really excited to announce we are going to be part of the upcoming TNSrecords Tour. You should all come along and have a beer with us, you would be silly to miss this lineup.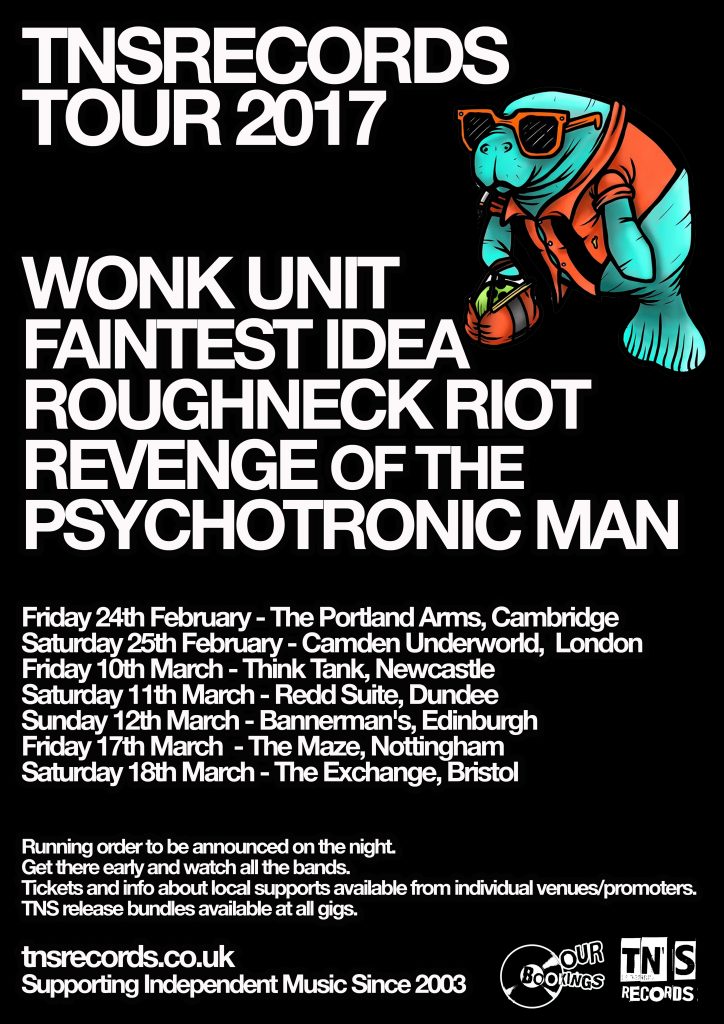 ***NEW ALBUM***
Continuing the theme of naming their releases after quotes from their hero and mentor, Alan Partridge, Revenge of the Psychotronic Man's new record is called 'Colossal Velocity'. To launch the album, the band have paid homage to Alan by stealing/adapting the teaser trailer for his debut film 'Alpha Papa'.
Colossal Velocity is actually one of the rejected titles for the film discussed in their teaser trailer.
Watch it here.
'Colossal Velocity' is the highly anticipated follow up to 2012's critically acclaimed 'Shattered Dreams Parkway' in the summer of 2016.
Revenge described the new record as "having all the speed and energy people expect, but with some new twist and turns" and "lyrical content that ranges from changing the world through one minute songs with lyrics you can't decipher, space travel and former footballer Niall Quinn".
The album will be released through TNSrecords (and 5FeetUnder Records in Denmark) in July 2016.
Revenge Of The Psychotronic Man are releasing the highly anticipated follow up to 2012s critically acclaimed 'Shattered Dreams Parkway' in the summer of 2016…