30/01/18
After pushing 14 years and well over 500 gigs, 4 albums and numerous splits/EPs/7"s Revenge of the Psychotronic Man have come to a big decision. We've had an unbelievable run but we collectively have realised that our time as a band is coming to an end.
Trying to do this alongside full-time work and numerous other commitments has been exhausting. We leave this knowing we have given absolutely everything we could. Doing around 50 gigs a year and ensuring we record and release as often as possible has taken its toll. We have got to a point where we have realised that this is affecting relationships with friends/family/partners and, significantly at times, mental health. There have been occasions where we were practising 2/3 times a week, then gigging all weekend and trying to squeeze work/TNSrecords/Manchester Punk Festival/MBBP in alongside it all. We guess we can't do all of that forever. We would never want something we have prioritised and loved so, so much to become a chore. But we could never do this half-heartedly either – this is worth way more than that.
We have so many awesome gigs booked (including a handful that we haven't announced yet) and we have absolutely no intention of letting anyone down. We also want to go out on a good run as it's probably what we will remember all this by the most. So, we will be doing all the gigs we have booked (and maybe a couple more). They will be our tightest and most passionate performances ever, they simply must be. We will then wrap it all up with a final Manchester gig in November/December. Everything we can announce atm is listed below.
We have genuinely not thought about what comes after that. But this isn't a hiatus. Maybe we'll want to come back to it in the future, maybe not, we will see where our lives take us individually. At the moment none of us really want to think about that, but if it happens it certainly won't be any time soon. It quite possibly will be never.
We will be releasing one last record too. It will have selected tracks from our last three albums plus some rarities and unreleased stuff. More news to follow on that soon.
There are so many people to thank that we're not going to attempt it right now. We have been truly humbled by our experience and it's safe to say that the DIY music scene is in a much healthier position than it was 14 years ago. What a community we have, it's so heart-warming. It's impossible to overstate how honoured we are to have played a small part in that. We can't list everyone we want to thank here, that would be ridiculous, but we'd like to acknowledge the contribution of past members, Dave Allcock, Liam McDevittand Tom Fildes and also our number one roadie, Malibu Phillip McKie. And we do want to take this chance to publicly thank Tim Bevington. We couldn't exist as a band without him and what he has selflessly done for our band (and for independent music in general) also can't be overstated. We told Bev what we'd decided yesterday and he called me to chat about it. He said, "if someone had told you what you would achieve at the start, you wouldn't have believed it".
And that rings so true. We are so lucky to have had all these incredible experiences. If you'd told us that three idiots would sell well over 5000 records/CDs, play to capacity crowds with likes of Bad Religion and three years in a row at MPF, play all over Europe, get mainstream radio play and do an actual MAIDA VALE session, we would have just laughed out loud. But we started this band to have fun, to gig as much as we could and to get our favourite new bands playing in our own town and to help build communities of like-minded people, where people supported small DIY gigs. We can genuinely say we've tried so hard to do all those things and that our happiest moments are the small, packed gigs where the crowd gets ridiculously silly. Seeing the crowd responding to our music means everything. We've made so many friends and seen thousands of incredible bands. Writing this is bringing tears to my eyes, but we all know it is time. I think we leave the DIY scene in an incredibly healthy place, with so many amazing bands coming through right now. And obviously we will all continue to be involved with that individually in a variety of ways.
It would mean to absolute world to see you all at some of the remaining gigs. Thank you so, so much from the bottom of our hearts. This has been a life-changing, mind-blowing and wonderful experience. Much, much love.
Andy, Matt and Big Hands
Saturday 3 February – The Owl Sanctuary, Norwich
Friday 2 March – The Birds Nest, Deptford, London
Saturday 17 March – The Old Town House, Warrington
Thursday 22 March – The Salty Dog, Northwich
Friday 30 March – Bad Apples, Leeds
Saturday 31 March – Dugstock, The New Cross Inn, London
Sunday 1 April – The Lady Luck, Canterbury
Tuesday 3 April – Steinis Pub, Schwerin, Germany
Wednesday 4 April – Menschenzoo, Hamburg, Germany
Thursday 5 April – Stö, Leipzig, Germany
Friday 6 April – Mark, Salzburg, Austria
Saturday 7 April – Burgerhaus Glockenbachwerkstatt, Munich, Germany
Saturday 14 April – Westgarth, Middlesbrough
Saturday 21 April – Manchester Punk Festival
Saturday 28th April – Comrades Club, Conwy
Wednesday 2 May – Rebellion, Manchester – with ZEKE
Saturday 19 May – Bankhouse Tavern, Oldham
Saturday 26 May – Strummercamp Festival
Saturday 21 July – The Swan With Two Necks, Macclesfield
2-5 August – Rebellion Festival, Blackpool
Saturday 29th September – Wotsit Called Festival, The Palace, Hastings
Saturday 27th October – 1000Fryd, Aalborg, Denmark
November/December – Dates tba – The End Of Revenge, Manchester.
(Plus a handful to be announced soon and a couple to be confirmed).
14/12/16
We are really excited to add four new dates to the 2017 TNS Tour.
We will be playing with Roughneck Riot and Wonk Unit in Warrington at the Brewhouse on Sunday 26th February.
Also with Wonk Unit and Faintest Idea at Cellar Bar in Stafford on Friday 3rd March, and in Banbury on Sunday 5th March.
And finally…..for now, with Faintest Idea at The Underground in Plymouth on Saturday 4th March.
Tickets will be available from the individual venues. There will also be local support acts.
TNS Records will also be putting a limited edition tour 7″ and tour t-shirts on sale soon.
01/12/16
Really excited to announce we are going to be part of the upcoming TNSrecords Tour. You should all come along and have a beer with us, you would be silly to miss this lineup.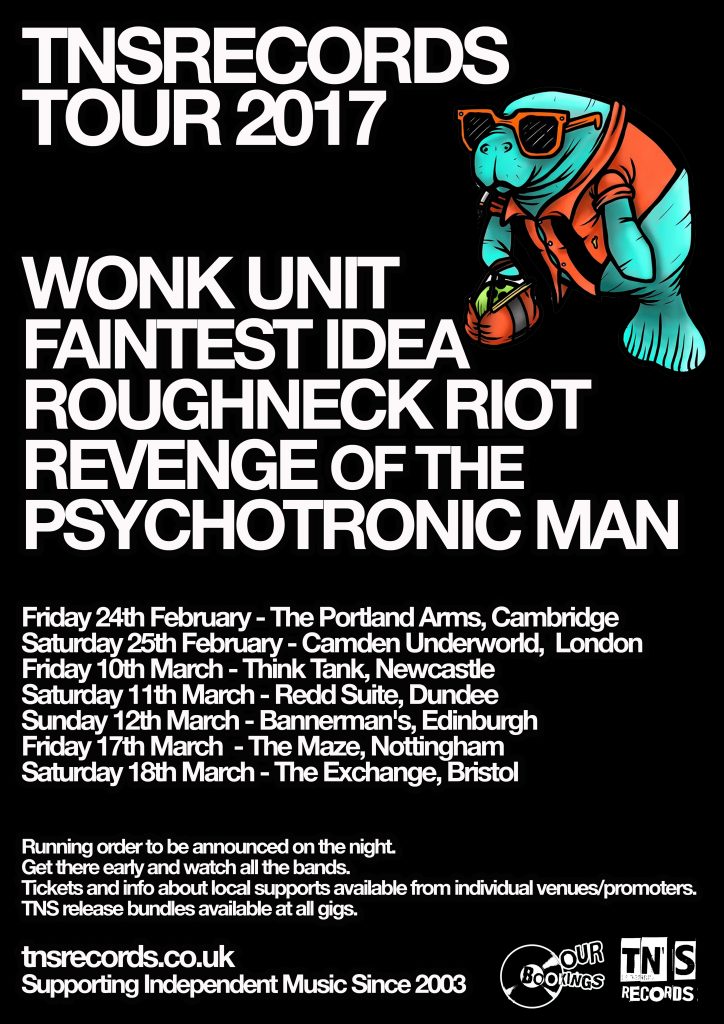 ***NEW ALBUM***
Continuing the theme of naming their releases after quotes from their hero and mentor, Alan Partridge, Revenge of the Psychotronic Man's new record is called 'Colossal Velocity'. To launch the album, the band have paid homage to Alan by stealing/adapting the teaser trailer for his debut film 'Alpha Papa'.
Colossal Velocity is actually one of the rejected titles for the film discussed in their teaser trailer.
Watch it here.
'Colossal Velocity' is the highly anticipated follow up to 2012's critically acclaimed 'Shattered Dreams Parkway' in the summer of 2016.
Revenge described the new record as "having all the speed and energy people expect, but with some new twist and turns" and "lyrical content that ranges from changing the world through one minute songs with lyrics you can't decipher, space travel and former footballer Niall Quinn".
The album will be released through TNSrecords (and 5FeetUnder Records in Denmark) in July 2016.
Revenge Of The Psychotronic Man are releasing the highly anticipated follow up to 2012s critically acclaimed 'Shattered Dreams Parkway' in the summer of 2016…